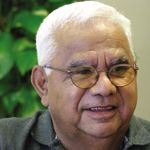 Deadly Vibe Issue 92 October 2004
This Sporting Life
Indigenous Australians all share a fierce pride and adulation when it comes to our sporting heroes, and we all love nothing more than cheering them onto greatness from the sideline as they do us proud.
But what happens when the bright lights of the stadiums, the cameras and thousands of adoring eyes no longer shine on those who have excelled to the best of their ability and then retired triumphantly, leaving behind many unforgettable memories and magic moments?
Deadly Vibe catches up with one of our most successful Olympians to find out how retirement has treated them.
Kevin Coombs
" When I played my last game, the final of the Australian Championships in Canberra, there was a tear in the eye," explains one of Australia's greatest Paralympians, wheelchair basketballer Kevin Coombs.
"It was the gold medal game and I announced to my team mates before the match that it would be my last."
In an amazing career that spanned 24 years, Kevin reached the absolute pinnacle of his sport, leading his country against the world's best while meeting some of the highest profile celebrities around, from sporting stars to prime ministers and princes.
Kevin was Australia's first Indigenous Paralympian, and played basketball for Australia in five Paralympics during the 1960s and '70s.
He was a member of the first-ever Australian Paralympic basketball squad that headed to Rome for the inaugural Paralympics in 1960 and would go on to captain the Australian team during the 1974 Commonwealth Games in New Zealand, the 1977 Jubilee games in London and was the captain-coach of the Australian team during the 1972 Paralympics games in Germany.
" Initially when I retired from sport, I was lost, and really not sure what I would do with the rest of my life," says Kevin.
"But soon I began to realise that it was far from the end, and I kept on reinforcing to myself all the time that life does go on.
"Not long after I became the commissioner of the National Wheelchair Basketball League, and staying in contact with the sport was very important. I still go out to watch games today and have stayed close friends with my old team mates who now are like family," he says.
With the same passion and commitment he gave to his sport, Kevin took the same kind of approach to tackling life after sport. Over the years, Kevin has been a member of various boards, including the national Indigenous advisory committee, which included other people such as Garry Ella, Charles Perkins and Lowitja O'Donaghue, for the Sydney Games in 2000.
Kevin also worked with the Indigenous Ambassadors Program, which promotes the importance of literacy and education to Indigenous youth. As part of his role as an ambassador, Kevin spoke directly to young Indigenous people about the importance of working hard for your goals and achieving your dreams through hard work and dedication.
"I'm totally committed to everything that I do, and I think that comes from playing sport at such a high level for so long," says Kevin.
"You keep that mentality that if you're going to do something you have to give it your all and make sure it's successful – you don't train so hard just to come second."
Today, Kevin maintains his involvement with Aboriginal hostels and is a member of the Indigenous Committee for the 2006 Commonwealth Games in Melbourne.
In 1993, Kevin's sporting achievements and his work with the Indigenous community were recognised with an Order of Australia Medal. For Kevin, though, his major highlight in retirement was being acknowledged and recognised by his own people when he carried the torch for the Paralympics Opening Ceremony in Sydney in front of 100,000 people, the only Indigenous person to do so.
" I think to excel at that elite level in sport, you have to be a little selfish, so you need to reward those people who supported you during your career after you retire," says Kevin.
"I was able to enjoy a great career thanks to the support of all my friends and family, and my success is due to them."
(story 1/10/2004 end)