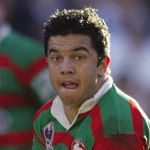 Deadly Vibe Issue 91 September 2004
Before the arrival of Joey Williams, Souths were a team lacking in attacking flair or direction. Similarly, the Tigers had long been crying out for a genuine play-marker before Scott Prince entered the fray and helped steer the joint venture to their most successful season ever.
While Joey is the 'new kid on the block', boasting youthful exuberance and talent to burn, Scott is the hard-working prodigy turned journeyman player, who has sustained his career through perseverance and determination.
For 20-year-old Joey Williams, his dream of playing in the NRL couldn't have seemed more distant earlier this year as he watched a Jim Beam Cup match from the bench.
"I thought I may as well just go home," he admits. "It looked pretty obvious that I was never going to make it."
Born and raised in Wagga Wagga, the son of former St George and Easts player Wilfred Williams moved to Sydney at 17 to play with the Roosters' under-20 squad.
After several seasons, it was clear that with players such as Brett Finch and Craig Wing in font of him, it was going to be some time before the developing player would crack first grade at the star-studded club.
Eager for the opportunity to prove what he could do at the elite level, Joey signed with Souths at the end of last year.
At his new club, Joey still had to compete with two other halfbacks vying for the top spot in Dean Byrne and Willie Peters. As he continued to impress while playing in the premier league side, a broken thumb kept him on the sideline for six weeks. After recovering, he found himself right back at square one, facing the decision to either fight his way back from scratch or to simply pack it up.
Through determination and focus, Joey found himself back starring in the premier league. His hard work was soon rewarded when he received the call to make his first-grade debut against the Sharks in round 12.
Following his debut, over the course of only a handful of games, Joey cemented his place as the first-grade halfback. His game-winning performance against Melbourne in only his second game proved to everyone that Joey was the real deal, and overnight he went from being a 'down-and-out struggler' to club saviour and fan favourite. And as the Bunnies look to regroup for the next season, it's clear that they will be building their future around their star halfback Joe Williams.
If all this wasn't motivation enough, Joey also has some extra-special incentive, with his girlfriend due to give birth to their first child in January. It caps off one of the most amazing years for one of the game's brightest young stars.
"Ever since I found out [about the baby], it's been like I've got so much more to work towards," says Joe. "It's really inspired me to play so much better."
(Story 1/9/2004 end)