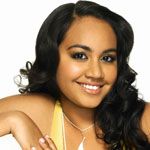 The Girl with the Golden Voice
Five months after making it all the way to the Grand Final of Australian Idol, Jessica Mauboy's feet still haven't touched the ground.
For most teenagers, turning 17 marks the beginning of one of the most stressful periods in their young lives; a year filled with school work and study, and an avalanche of tests, exams and assignments.
For teen music idol Jessica Mauboy, school is something she's barely had time to think about, having only recently completed a whirlwind 2006 as a Grand Finalist in the Australian Idol series.
In between jumping from one media engagement to the next, attending events large and small and spending hours in the recording studio, Jess has been attempting to juggle life as of Australia's most promising young performers with being an average student preparing to finish high school
Most recently, Jess has been busy jetting about the country promoting her recently released album The Journey, a CD and DVD collection of all her greatest performances from last years Idol series, which hit stores in February.
"I think recording all the performances and having them on there is very special," Jess says. "It's something to give to the fans and all the supporters out there. I guess it was pretty special for a lot of people, so I'm glad I had the opportunity to release it."
Recoding the album was just one project that has kept Jess busy since the end of the show, and in only a short time the bubbly teenager has become somewhat of a veteran when it comes to handling herself with the media.
"After Idol I got a lot of opportunities to talk to the media," she says. "It took a little time to get used to, but I was getting so many phone calls from people asking me for interviews, or to attend events do little events. I'm only just going back to school now."
The image of Jess battling the Alice Springs dust and wind to blow the judges away with her first audition is a moment that instantly etched itself into Idol history.
And from that humble beginning, Jess went on to capture the hearts and imaginations of the Australian public, quickly going from an everyday Darwin schoolgirl to an overnight Australian celebrity. But what was it like when the stage lights dimmed and Jess headed back to her home in Darwin, a far bigger fish than when she had left?
"I was a little bit afraid of going back home at first," she admits. "I was thinking about how people would be and what they were going to say.
"When I did go back I would notice some people looking at me funny, and at school people would be saying, 'hey, what are you doing here? Aren't you supposed to be in Sydney?'"
But after the rollercoaster ride of the three months she spent away from friends and family while being a part of Idol, coming home for the first time was an emotional experience for Jess.
"It was so beautiful going back home for the first time, but when I got off the plane there were all these people there, screaming my name. There were little kids holding signs up in the air – it was amazing. When I walk down the street now, people still scream out my name. It's just feels so weird.