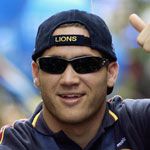 Des Headland has had a fantastic year. He played in his first AFL grand final, had his best-ever game in a preliminary final the week before, and finished equal fourth in the Brownlow Medal stakes.
Best of all, the 21-year-old midfielder received an early Christmas present from Brisbane Lions last month when they agreed to trade him to Fremantle Dockers. After four years in Queensland, the WA-born player is coming home.
"One reason I want to play for Fremantle is that I believe they have a big future in the league," says Des, who has signed a three-year contract with the club. "There are heaps of young kids here on the way up who have outstanding potential. It'll be good to play alongside Jeff Farmer too."
Des has very fond memories of being in the Lions den and, in particular, playing in last season's finals series.
"It was awesome, another step up from the regular season in terms of performance," he says. "The game is quicker and the reaction time is also faster. I played the best game of my career so far against Port Adelaide at the Gabba. I had plenty of touches and was in a good rhythm."
And the grand final? "Unbelievable! The atmosphere was incredible and the adrenaline rush was just awesome. When you're a kid you dream of playing in a grand final at the MCG " it was everything that I had imagined and more. I couldn't believe how fast the game went. It started and all of a sudden it was over."
Although he is looking forward to new challenges and a new chapter in his footy career with the Dockers, Des is sad to leave so many friends at the back-to-back premiership-winning team behind.
"I'm very excited about having made this move, but I'll miss the boys heaps and all my friends in Brisbane. I learned a lot from the Lions' coach Leigh Matthews. He's a great fundamentals coach and knows how to get the best out of his players."
When his contract with the Lions expired at the end of the season, Des, who recently became a father for the second time, realised it was time to head back west.
"I missed my family a lot, so it will be great to spend Christmas with them this year. I was pretty homesick in Brisbane."
After disclosing his desire in October to return to WA and play for either the Dockers or the Eagles, the AFL warned him to keep quiet because he was prejudicing the draft process.
But it all turned out in the end. Parting on good terms with the Lions, he is thankful not to have been forced into the pre-season draft, which could have seen him playing for Carlton, St Kilda or Richmond.
Corporate affairs and communications manger with the Dockers, Keith Black, believes Des will add pace and size through their midfield, complimenting team structure.
"Having played in a premiership-winning team, he will also bring a winning attitude with him," says Keith. "Des knows what it takes to be successful in high pressure situations. I think he has his best 10 years ahead of him."
Deadly Vibe Issue 80 October 2003
It may not have been a goal, but the point Des Headland kicked in the dying seconds of the Dockers' match against the Kangaroos in Round 19 gave Fremantle one of the most important wins in the club's history, all but securing their first-ever finals series.
With the scores locked up in the critical match at the MCG, goal sneak Paul Medhurst took advantage of a Kangaroos turnover and delivered the ball to midfielder Des Headland, who marked 45 metres out from goal with just under a minute on the clock.
Des then took his time, letting the clock run down before kicking the needed point to put Fremantle into the lead with only five seconds remaining.
(Story 1/8/2003 end)