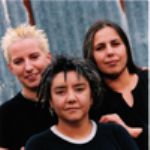 Deadly Vibe Issue 67 September 2002
Make Mine A Mary
They were the darlings of folk and world music festivals from Woodford to Womad, a sublime trio with vocals to swoon for. So whatever happened to Tiddas? Well, as original member Amy Saunders tells Deadly Vibe, a new-look sisterhood is set to enchant us all over again.
"You know what it's like when you hear your favourite song at the supermarket and you just have to sing into a toilet cleaner as though it's a microphone, and it's not until the song's stopped that you realise what you've been doing!" – Amy Saunders
Amy Saunders has a little too much time on her hands. Since Tiddas called it a night, the Gunditjmara beauty with the hearty, infectious laugh has divided her time between collecting pickling jars and playing game after game of Monopoly with her niece.
"I've got jars in the laundry, jars in the kitchen – they're everywhere!" she cries. "I've got this dream of preserving and pickling things, one day. Actually I wish I could get a life because it's driving me insane."
There could well be a future for her in board game design.
"I think we should have Koori Monopoly where you have cards that say things like, 'Your Native Title has been granted. Don't pay rent on anybody's property for the next three years.'" She lets out another giggle. "That's what happens when you finish up with a deadly band like Tiddas and have too much time on your hands."
Originally from Portland, Victoria, Amy was one of Tiddas' original members. In fact it was in her brother Richard Frankland's band, Djaambi, that the girls first met.
"My brother harassed me to give up my bush/beach existence to come back and sing in his band," she says. "Then we broke away to do Tiddas."
The trio – Lou Bennett, Sally Dastey and Amy – toured the world, gaining fans like Billy Bragg along the way. They played Womad in England and Spain, and toured with Midnight Oil, Sweet Honey in the Rock and Arlo Guthrie. Releasing a total of four records, their unique sound garnered them three Deadlys and an ARIA before they called it quits in 2000.
"It was sort of a mutual thing, though I would have been happy to keep going forever because I'm a creature of habit," says Amy. "But Sal was keen on having a family and she met a lovely man who she married. She's got a baby now and a solo album, which I hear is fantastic."
Lou Bennett has also released a solo album, Time Out. A collaborative work featuring Tim Prince and Peter Lawler from Crazy Baldheads, it's already a firm favourite with Amy.
"It was great to put the album on and think, 'Ah, so that's what happened to that little bit of music.' My favourite song is '100 Times'. I could play that over and over. Hopefully it'll become an absolute classic in years to come because it's just a beautiful song – it gets me right in that spot."
Amy is the only Tiddas girl who hasn't yet released a solo album. She prefers to remain the odd one out.
"My jars are taking over my life so I've got no time for a solo career," laughs Amy. "I just want to sing and have fun. I'd be happy to be a support act for the rest of my life – it's just less pressure. It's nice to turn up and sing the songs and then be off early enough to sort out my jars!"
Quite. Besides, there's a new group on the boil – the Bloody Marys. Comprised of Amy, Lou and newcomer, bass player/singer Alics Gate-Eastley, the evocatively named outfit are sure to delight all those who were so devastated when the 'sisters' broke up.
"We have our old Tiddas manager Jill Shelton back on board. She was so excited that we wanted to do some stuff together and she's just been pulling gigs out of the hat."
So how did it all happen?
"A mate of ours from Djaambi days rang me to see if Lou and I would be interested in doing a support gig. We got together and did a show with him, and then Alics came along and we just kept it going from there. I wasn't really sure how Lou would feel about getting together and singing. But she was totally excited and I felt 10 feet tall, bullet proof!"
The Bloody Marys are already being received with open arms by venues that swelled to the sound of Tiddas. New member Alics has a lower, warmer voice than Sally Dastey, adding a distinctive texture to the gorgeous harmonies the girls are famous for.
"Alics is Scottish and she has a lovely voice, but it's lower than Sal's. In fact she keeps trying to pinch all my low harmonies, but I'm edging her out and getting her to do the high ones!"
The Bloody Mary's first high-profile gig will be at the Sydney Opera House for the 8th Deadlys on 10 October. And in another first, Amy, Lou and Alics will be stepping out of character to perform an R&B number.
That said, the repertoire is evolving by the minute, with the girls performing everything from Tiddas tracks and country standards to covers of Archie Roach.
"At this stage we're just singing songs we love. We did a gig down in Portland a couple of months back and the next day we realised we'd done an Archie Roach song, my brother Walter's song about my grandmother, and a song by Michael Thomas from Weddings Parties Anything. We were covering all these male Victorian songwriters!"
Speaking of parties, what with Stiff Gins and now the Bloody Marys, the question has to be asked: is it cocktail hour for Aboriginal music?
"Well look, I've always had this ridiculous dream of getting heaps of musicians together and having a cocktail night where we only sing songs about alcohol – 'Tequila Sunrise', 'Pina Colada', 'Pub with No Beer'. It would definitely be an over-18s show!
"The funny thing is, I'd never thought of Stiff Gins' name as being related to a drink. When we were coming up with a name, we couldn't all agree on what we wanted. Then my brother Wal dropped around with some tomato juice and asked if he could make a Bloody Mary." And the rest is history.
In the meantime, Amy is under strict instructions from her boyfriend to get her collection of jars into order. That's when she's not down the supermarket singing up a storm.
"You know what it's like when you hear your favourite song and you just have to sing into a toilet cleaner as though it's a microphone, and it's not until the song's stopped that you realise what you've been doing. But it's good to shake up people in the supermarket now and then. They get a little bit boring!"
Being boring is something Amy Saunders will never have to worry about. After all, how many people do you know that can sing out loud in the supermarket without having had even one Bloody Mary? Deadly.
(Story 1/9/2002 end)