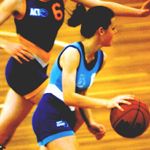 Deadly Vibe Issue 71 January 2003
Bouncing Into The Big Time
Too cool for netball, Alison Lacey has just scored herself a spot in the national U16 basketball team.
Alison Lacey can't get enough of her beloved game of basketball. For this 15-year-old Koori girl from Canberra, "˜training' isn't a dirty word so much as something worth getting up in the morning for.
"At the moment I train on Mondays and Wednesdays with a mixed team, and then on Tuesdays I do weights. Wednesdays, Thursdays and Fridays I play with a team, and on the weekends I train as well," says Alison.
Having just been selected for the Australian U16 girls side, it's a good thing she doesn't find all those drills boring.
"We've got a six-day camp coming up at the Australian Institute of Sport AIS in January, then we'll be playing in the Coca-Cola Classic in Canberra. From there, if you play well, they'll look at you for further camps or scholarships at the AIS," she says.
Originally a netball player, Alison came to basketball four years ago after her twin brother's team was short by one and recruited her for a game. Now she's hooked.
"Last year was my final year of playing netball. I prefer the contact in basketball " you're free to move around more. It's not as strict and uptight as netball."
Alison was chosen for the Australian team late last year after competing with the ACT State team at the national titles in July. Despite being the underdogs going into the competition, the team managed to pull off a few unexpected wins.
"The highlight for me was when we played NSW Country and won. We were expected to lose every game but we beat them."
Although she knew she'd played well, Alison was sweating it out as she waited for that all-important letter in the mail.
"I was terrified. I was so worried because I was hoping I'd been picked. Then a couple of months later I finally got the letter. I started smiling and I couldn't stop because I was so happy."
Now the guard/forward is well on her way to one day playing for the Opals.
She believes it is her attitude that has helped her get this far.
"The way you approach and respect others is what makes people respect you," she says. "I also try not to rush into everything. If something goes wrong, instead of worrying about it, I just keep working at my game."
It's a game she clearly loves.
"The most exciting thing about basketball is the atmosphere. You're there to have a good time and everyone has so much respect for everyone else. But it's important to be a good sport " picking someone from the other team back up when they fall, or telling them they've done well. Normally we all smile and say thanks."
(Story 1/1/2003 end)