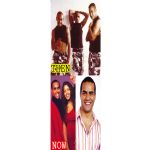 Deadly Vibe Issue 97 March 2005
Aim and Fame
As a slick RnB trio Aim 4 More charmed us all. Deadly Vibe catches up with two of the fellas to see where they're at today.
Their music was a blend of smooth harmonies covering the sixties' sounds of motown, rock "˜n' roll and RnB, through to the more modern styles of rap, funk and high energy dance. Their first gig was at a high school blue-light disco, back in 1994. Over the next six years, Aim 4 More toured around the country, performing for crowds who were as diverse as the group's music " from corporate events and private functions to concerts and dance parties.
Although the group started out as a quartet, when two of the original members left due to work commitments, remaining members Troy Brady and Harry Whaleboat decided to form a trio, and invited a young Michael Tuahine to join them.
"Aim 4 More had a big gig coming up in Canberra and I got a call from their manager saying that one of the guys had left and could I fill in," says Michael.
"Soon we started to get noticed and people wanted to do record deals and we started to tour and get around the place. But the most rewarding part about it all was that we were three guys just singing and having fun."
The three band members, all of Aboriginal heritage, had all discovered a love of music and performing at a young age.
Michael started performing at the age of 14, singing in pubs and cafes with his mates.
"Dad sang and mum danced and dad couldn't dance and mum couldn't sing so I kind of got both of both their talents mixed in," he says. "I would have been stuffed if I got dad's dancing and mum's singing ability, I probably would have been an accountant!"
Troy was fresh out of high school when the group first got together, and remembers the band's first proper gig clearly, as it was in front of his peers.
"I was nervous as hell," he recalls. "But once we got into it we didn't want to stop. This performance thing was just the best."
Troy loved every minute of his time with the group, and even views his time with Aim 4 More as an apprenticeship of sorts.
"It really taught me so much about the music industry," he says. "I learned the tools of the trade so that I could go off and do my own thing."
And do his own thing he has. After Aim for More Troy went on to form Java with his wife Trevelyn and Harry. This lasted for a few years, but performing covers to a backing track was not what this frustrated musician had aspired to.
In late 2001, Troy and Trevelyn also appeared in the third series of the reality TV talent quest, Popstars. Out of over 6000 hopefuls, Trevelyn made it to the final eighteen and Troy got all the way into the final seven before being voted out.
"Popstars was a fantastic experience," says Troy. "Of course, it was very daunting as well, but for both of us to make it so far " it was really a confidence booster.
"It was also a great opportunity to expose mainstream Australia to Indigenous artists,"
Both have also participated in music and workshops throughout south-east Queensland to help burgeoning young artists learn more about the music industry and to encourage young Indigenous people to express themselves and be proud of their culture.
"Whether they're into rap or country or whatever, it's a great way for these kids to express themselves in a deadly cultural manner," Troy says. "Then at the end of the workshops the kids get to showcase their work at the annual Stylin' Up festival.
"It's great to see the young fellas getting up there and showing everyone what they can do."
Troy and his wife now make up the soul/funk duo Troy n Trevelyn.
"We've got a live band behind us, and we're singing our own songs," Troy says. "It gives you so much more incentive to go out there and do your best when you're using your talents in a creative way."
The pair is now working on an album, and hope it will be ready for release by the middle of this year.
"It's all originals," says Troy. "It's a real mix of soul and reggae; a whole fusion of styles that have inspired us.
As for Michael, after a few years with the group he began to realise that his true passion was acting. So when he was offered a role in a play, he saw it as an opportunity not to be missed.
"A role came up in Perth for a Black Swan Theatre Company show called Corrugation Road. I thought bugger it, I'll give it a go," says Michael. "That was my first shot at acting.
"After doing that show, Showboat came along, so I was pretty lucky that year. Then the annual National Institute of Dramatic Art (NIDA) auditions were going on and I auditioned for that and I got in."
After studying at NIDA's highly competitive and demanding acting course, Michael went on to ply his trade in a number of arenas. He hosted the Deadly Awards for several years, appeared in films such as Catriona McKenzie's Redfern Beach, and last year toured nationally with the Reg Cribb play Last Cab to Darwin, which also featured veteran actors Barry Otto and Jacki Weaver.
Michael is currently travelling the world to broaden his horizons and add to his already considerable life experience.
So even though Aim 4 More may be no more, the energy and talent that they showed us back then is still alive and kicking today. They truly are an example of what can happen when you follow you dreams.
(story 1/3/2005 end)