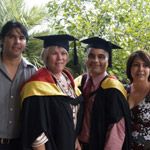 Name: Evelyn Fay Binge
Being a mother of six and a grandmother of 10 might seem like more than enough responsibility for most of us. But not for Evelyn Fay Binge. She is passionate about making a difference in her community and is willing to work hard as is necessary to achieve this.
In April, Evelyn graduated with a Master of Indigenous Studies from Southern Cross University in Lismore. On the same day her nephew Chris graduated with the same degree, while a week later her daughter Leann graduated with a nursing degree.
"It certainly is quite an achievement," Evelyn admits. "When I had a moment to sit down and reflect on it all, I actually got tears in my eyes.
"I'm very proud."
Evelyn's decision to undertake her degree came out of a personal journey of healing.
"I had previously completed a diploma in welfare," says Evelyn, who works at the Mallanee Bugilmah welfare centre in nearby Casino. "But I never really thought about doing my masters until I began this five day intensive workshop in childhood trauma recovery.
"This helped me to not only recover from the trauma of my own childhood and the loss of my grandmother and parents, it also led me to realise that I could help others."
Evelyn studied trans-generational grief and trauma, and how it can have an impact on not only your own life, but on your children's and grandchildren's lives.
"My daughter helped me type up some of my assignments," Evelyn says. "And she said that just reading my work had a huge impact on her. What I have learned has helped us all – my healing has become my family's healing."
Evelyn has taken her knowledge out into the community, and helps others to deal with such things as grief, loss and violence as well as assisting families in crisis.
"Healing is not just about dealing with the past – it's about empowering yourself, effecting change and making sense of your life. I want to do my best to help others and to help my community. Family and community is where my heart is. I want to do everything I can to make a difference.'
Evelyn has certainly done just that. Not only is she helping her community, she has also inspired her whole family to continue their education.
"One of my granddaughters is about to start university," she says. "Another daughter of mine is also looking into it, and so is my husband!
"I'm really proud of what I have achieved. When I was young I didn't have any opportunities like this. We weren't even allowed to go to school. Now I can watch my children and grandchildren take advantage of the opportunities that are out there and really make something of their lives."