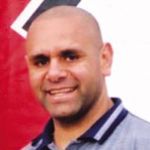 Name: Kevin Kropinyeri
Being a parent is all about sacrifice. And being a good father, particularly a young one, takes enormous sacrifice and character. For Kevin Kropinyeri, the sacrifices he made for his family were not so tough because the gift he received in return was far greater.
"I find that I have a more healthy balance in my life when my family is my priority," says Kevin, who has worked with Indigenous youth in the South Australian town of Murray Bridge for the past five years, providing sport, recreation and mentoring opportunities.
"Two years ago, my life was a bit of a shambles," says Kevin. "But by making some concrete decisions and focusing on my family, I was able to turn my life around.
"So now any other issue in my life doesn't matter, whether it's work-related, sport or anything, so long as my home life is right. I think that as a father, once we take the focus off ourselves and place it upon our mothers and children everything else falls into place."
The focus in Kevin's life is his four children – Kevin, 10; Jamaya, eight; Jarika, five; Kysaiah, two – and wife Josie.
"We do absolutely everything together as a family," Kevin says. "If I go anywhere I take the kids, whether that's to the football or even just up to the shops. We always go together as a group. And I think that's a great thing, because if a family works together, they stay together."
While Kevin has worked tirelessly in his community encouraging Indigenous youth to participate in recreation and sport, he has been careful to take only a guiding role when it comes to his children's choice of sport and rec. Kevin's oldest son, Kevin Jnr, is a rising basketball star playing in the Adelaide district league while daughter Jamaya is a talented singer who is taking lessons in the hope of becoming a singer.
"I don't push my children into doing anything as far as sport and recreation – I support them in whatever they choose to do," says Kevin. "I just want to help my children in any way I can to achieve their own goals.
"I teach my kids to have respect for each other, and to be patient and loving. I tell my son that there is no use being one way out with his friends if he can't show the same kind of integrity at home with his family."
By placing his family at the centre of his life, and with the support of his wife Josie, Kevin has been able to provide his children with a warm, loving and respectful family environment.
"I can only speak for myself, but once I had taken the focus off myself and put it on loving my wife and kids, I found that way I reciprocated more back," says Kevin. "So my advice to other fathers would be to put your wife and your children before anything. When it comes down to it, families don't need or want materialistic things – they want time, attention and love."