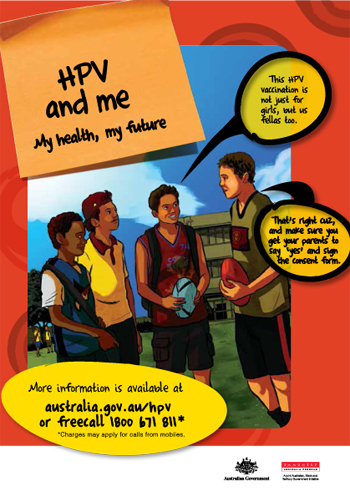 If you're in high school, you might have heard about students getting a vaccination to protect against the Human Papillomavirus (HPV).Maybe you got a dose yourself! Soon, eligible students will be getting the second of three doses required to provide the best protection against HPV.
A comic book HPV and Me – My Health, My Future is being released this month to tell young Aboriginal and Torres Strait Islander people more about the National HPV Vaccination Program. The HPV vaccine is available free in schools to young men and women aged 12-13 years to protect against cancers and disease caused by the virus. During 2013 and 2014, young men aged 14-15 years will also be able to receive the HPV vaccination as part of a catch-up program.
In some remote areas, the vaccine will also be available in community health clinics. The comic focuses on the lives of two teenagers, Wes and Bianca. It follows them as they find out more about the HPV vaccination by talking to their parents and teachers. With the consent of their parents, both Wes and Bianca make an informed decision to have the full course of the vaccination – all three doses over a six month period.
Multi ARIA and Deadly Award winner Troy Cassar-Daley, who is a spokesperson for the HPV campaign, and whose children are eligible for the vaccination, makes a cameo appearance in the comic. HPV and Me – My Health, My Future is a helpful tool for teenagers who want to know more about the HPV vaccination. It also focuses on the importance of looking after your health and setting goals for the future. To find out more about HPV and the vaccination, or to order a free copy of the comic visit australia.gov.au/hpv.