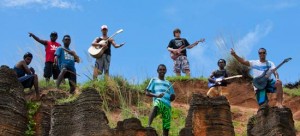 At the recent National Indigenous Music Awards in Darwin, the East Journey Band took centre stage, performing LIVE and picking up some awards of their own. It was an important milestone in the evolution of the band from North East Arnhem Land who combine traditional music with reggae, rock and dance.
The members of East Journey hail from the community of Yirrkala, located on the north-eastern tip of Arnhem Land, and draw their musical inspiration and material from ceremonial song, poetry, traditional melodies and instruments. They formed in October 2010 and last month were nominated for no less than five National Indigenous Music Awards.
Through the guidance and encouragement from their Elders including the legendary Mandaway Yunupingu (Yothu Yindi), East Journey blend rock and acoustic music with the earthy traditional sounds of the yidaki (didgeridoo) and bilma (clapping sticks).
Singer Rrawun Maymuru is a serious song writing talent. He penned the song 'Bayini' on Gurrumul Yunupingu's platinum selling album Rrakala. A new version of this song has recently been released featuring the vocals of Sarah Blasko. Rrawun also picked up the award for New Emerging Talent at the 2011 National Indigenous Music Awards.
The other band members are PJ White, Ngalkanbuy Mununggurr, Arian Pearson, Gathapura Mununggurr, Ses "Fury" Frank, Marcus Marawili, Malngay Yunupingu and Banul Garawirrtja.
Their debut album Guwak was recorded at Darwin's Subsonic Studios, and Level 7 Studios in Sydney, then mastered in L.A. The first single, 'Song of Arnhem Land' features a very catchy chorus that talks about the apprehension the band feels when they travel to new places, countries and cultures. While tours and music pull them away, their family, culture and country calls them home.
Upon release 'Song of Arnhem Land' was picked up by triple j, ABC Local and Radio Australia for airplay during NAIDOC week. It entered the AMRAP Great Southern Charts for easy listening and was in the Top 10 for two weeks.
The clip was shot in Arnhem Land and Vanuatu in 2011 when the band performed at Fest' Napuan, Vanuatu's biggest annual cultural event.
The bands recent NIMAs appearance was the biggest performance yet for this emerging act.
But has such quick success been overwhelming for the band? Acoustic guitarist Arian 'Azza' Pearson says they are just taking each moment as it comes.
"It has happened really fast, but we are still based in community and we are mostly working in other jobs. We all want to make the band our career, but we also have to balance it with our cultural commitments and also with ceremony – connection to culture is important to the band," he says.
"The land is our identity. We want to showcase who we are and where we
come from."
He describes the band's sound as: "saltwater, reggae, rock acoustic and traditional – a bit like Yothu Yindi but mixed up a bit – it is a unique sound. The lead guitarist PJ White is like another Santana. He is gifted, a freak."
And they have connections to that famous band. Azza's grandmother is Manduway Yunupingu's older sister.
"We all grew up listening  to  Yothu Yindi, we idolised them. They were huge in the '80s and '90s," he says.
"Yothu Yindi opened a lot of doors and pathways, but these were closed for some years and now it has all opened up again. We are doing workshops with young Indigenous bands – we are trying to help them too."
"We sing in Yolngu language – the same as Gurrumul. I am happy that more Indigenous bands are getting their stories and music across."
Azza says the first album, which was released back in April is going really well.
"We have had some great feedback about it and the 'Song of Arnhem Land' – we got selected for NT Song of the Year with that," he says.
They shot a film clip to the song in the local park at Yirrkala.
"We went to the skate park and mucked around and created a good vibe for the kids to watch too, we livened the place up a bit," Azza says.
Meanwhile, Azza says everything is a learning curve at the moment, even doing interviews, but they are embracing it all.
"East Journey is trying to share a message about culture – we want to educate people about health and culture. We also talk about unity and reconciliation – we want to unite Australian and Indigenous people together," he says.
And in the mean time, they still have their day jobs to go to.
"I am a ranger and two other guys in the band are too. Another is a facilitator in an Aboriginal Corporation, another one is a mentor in the Yirrkala Community School, while the other guys are building out in communities," he says.
East Journey were nominated in four categories at this year's NIMAs, including National Song of the Year, NT Cover Art of the Year, NT Film Clip of the Year, and the G.R Burrawanga Memorial Award – they won both the Memorial Award and Film Clip of the Year.