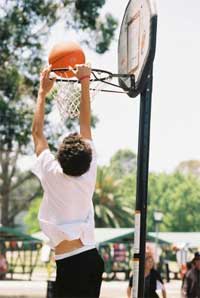 The national Vibe Alive festival is back in 2011 after a successful 2010 season where more than 10,000 young Australians experienced that special 'vibe' of a major youth festival.
Vibe Alive is a fun, two day festival for young Australians of all backgrounds that celebrates Aboriginal and Torres Strait Islander cultures and will be staged in Bendigo, Victoria on 25-26 May; Townsville, Queensland on 1-2 June; and Kalgoorlie, Western Australia on 17-18 August.
The festival offers two days of extreme fun with dancing, rapping, singing, painting and sport. Vibe Alive's aim is to give young people a chance to express themselves and show their school, their family and their community what they're good at.
Executive Producer Gavin Jones says everybody gets a chance to shine at Vibe Alive, because all young people have different talents and abilities.
"Vibe Alive is about showcasing our young people's talents and inspiring them to reach their full potential," he says.
"One of the most important things we do is promote the very real message that getting a full education equals a full future, and we also look at how good health helps us get the most from life. At Vibe Alive, students get to find out about career choices, meet inspiring celebrity role models and learn a few important things about how to lead a healthy lifestyle."
What happens at Vibe Alive?
Students compete in teams of 8-12 people at Vibe Alive. There are seven activities to compete in, with each activity scoring points for your team. The more points a team gets the better chance they have of winning. Prizes are awarded for each activity and each division.
The more each team participates across all activities, the more points they will receive giving them a better chance of picking up a prize and ultimately winning the Vibe Alive Cup!
How to register for Vibe Alive
Vibe Alive is a free event and places fill quickly. Schools can register online for Vibe Alive events in Bendigo, Townsville and Kalgoorlie or if you'd like more information, send an email to [email protected] or call the Vibe Australia info line – 1800 623 430.
Vibe Alive is also looking for Volunteers to be part of the event. If you can help out please contact [email protected]
The Vibe Alive festival season starts in Bendigo on 25-26 May, and will be the second time the festival has visited Bendigo. Last year more than 2200 young people attended from as far afield as Menindee, Frankston and Melbourne, Victoria.
Vibe Alive is funded by the Australian Government's Community Festivals for Education Engagement program, designed to encourage school attendance, retention and healthy lifestyles for all young Australians, in particular, Aboriginal and Torres Strait Islander students.
For all media enquiries, including image requests or interview opportunities, please contact Maryann Weston at Vibe Australia on (02) 4822 8230 or email [email protected].
Vibe Australia produces the Deadlys awards, Vibe Alive, Vibe 3on3, In Vibe, Deadly Vibe, Deadly Sounds and Deadly TV. For more information about products: www.vibe.com.au
All Vibe products promote a healthy lifestyle free from drug abuse and alcohol misuse. Vibe products encourage the completion of a full secondary education and all Vibe events are smoke-free. Vibe Australia is also committed to increasing training and employment opportunities for Indigenous people and encouraging all young Australians to reach their full potential.
Vibe Alive is proudly supported by the Australian Government through the Department of Education, Employment and Workplace Relations.