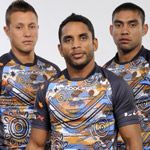 Deadly Vibe Issue 156, February 2010
After 12 seasons of top flight Rugby League, Preston Campbell is playing with a new lease on his footballing life.
Four weeks out from the opening kick-off of the 2010 NRL season, there's already an extra spring in the step of Preston Campbell at pre-season training.
The Gold Coast Titans' round one clash against the New Zealand Warriors is looming, but that's not the only thing on the veteran player's mind right now.
Before then, Preston has a date with history on 13 February, when he'll run out onto Skilled Park Stadium on the Gold Coast as Captain of the first ever Indigenous Rugby League All Stars team.
"It can't come quick enough to be honest," says Preston, who chatted with us at the end of a long afternoon training session at Skilled Park.
"Ever since we found out that it was going to be on, I've been on my toes and training hard," he adds.
Go anywhere in the world, and you'd be hard-pressed to find a more courageous sportsperson than Preston Campbell.
For 12 seasons now, Preston has been throwing his 167cm, 75kg frame at the giants of what is considered the toughest and most physical team contact sport in the world.
Making it at the first-grade level of the NRL would have been achievement enough, let alone establishing himself as one of the game's most talented players.
Now 32, Preston is coming off one of the strongest seasons in his career. He has just re-signed for a further two years with the Titans, and this month will captain the Indigenous team in the inaugural NRL All Stars match.
It's the latest achievement in a career that has already included a Dally M Medal, a Grand Final win, and 228 first-grade games, but for Preston, the chance to captain an Indigenous side is a special honour that surpasses everything else.
"It's sort of hard to explain," says Preston, talking about how important the All Star game is to him. "To put it bluntly, we've had a really rough trot. We get a bad rap sometimes as Indigenous people, so this game is really important to me for the fact that they can look at us and think 'Geez, look at this team. It could be the best team to ever take to a footy field, and they're all Indigenous players.'
"We get looked at as a minority on our own land, and this game has got more of a purpose than just playing for two points for a Premiership every week. We're playing for us, for our people and playing for a little bit of respect.
"The Stolen Generation is only one generation back from when I was born. My aunties, my uncle and my dad, they were all taken away from their homes, so to come as far as we have, I think we can be very proud, and that's part of the reason why this game has come about, so the young Aboriginal kids who know what we've been through get to strive for something a little bit better."
The seeds for the historic match were sown in late 2008 when Preston joined an all Indigenous side that went on to win a memorable match against a New Zealand Maori team, played as a curtain-raiser match for the 2008 World Cup.
Following the match, Preston spoke to Titans' CEO Michael Searle about his pride in playing for the Indigenous side, and a plan for a return of the team was hatched, this time with all of the competition's Indigenous stars available for selection.
Apart from Preston, who as Captain was an automatic selection, the Indigenous team was selected entirely by the fans, with a total of 17,000 votes being cast.
Looking at the team on paper, Preston still can't quite believe just how strong the line-up is, in spite of some big names that'll miss the game through injury, namely Matt Bowen, Justin Hodges and Rhys Wesser, while dual international Timana Tahu was made ineligible for selection due to a suspension.
Beginning his career on the Gold Coast in 1998, Preston shot to stardom in 2001 at Cronulla thanks to his exciting, off-the-cuff running brand of football. From being a virtual unknown, in a single season Preston went on to win the Dally M medal, the highest individual accolade in the game. Joining the Panthers for the 2003 season, he led the club to a Premiership before returning to the Gold Coast in 2007 with the new franchise, the Titans. After two solid seasons, word spread at the beginning of 2009 that the season would be Preston's last in the NRL.
"I think it was a little bit premature saying 2009 would be my last year," says Preston. "The more I went on through the season I surprised myself at the way I trained and the way I played. I was feeling really good with my body, as well as mentally.
"I think the fact that I was able to come through the season without any major injuries helped my choice in signing on for a couple more years. I mean, footballers go through those seasons where they have bad injuries, and I had three or four years there where I had some pretty significant injuries. They just take time to heal, so I haven't been 100 percent for a long time, but I'm feeling really good now – I feel younger than I am."
Preston says that his game has changed a lot over the years – the erratic running youngster gradually evolving into the controlled ball player and astute reader of the game that he is today.
Adding even more to Preston's motivation to play has been the core group of Indigenous players, mostly up-and-coming youngsters, and Preston wants to do everything he can to help them make it at the NRL level.
It's the kind of attitude that has made Preston the most liked and respected player in the game, the type of player that even fans of rival clubs speak about in glowing terms, not just for his courage on the field, but also his conduct off it.
Following the public-relations debacle of the 2009 season, the NRL has sounded out Preston to be the face of the game in 2010. From the very start, Preston has never been too busy to chat with anyone, whether it be a club CEO, a league journalist or a young fan on the sidelines. He'll be the last player at any event signing autographs and the first to say yes to community coaching clinics and school talks.
In an era when clubs place such importance on developing the right 'club culture', it's little wonder that Gold Coast CEO Michael Searle has been keen to keep Preston at the Titans for as long as possible. In short, there is no finer role model in Rugby League, or Australian sport for that matter.
"To be honest, just to make the NRL was a dream for me," says Preston. "I think if I were able to play just one game, I would have been happy with that, but to be able to play more than 200 games, win a Grand Final and now be a part of this game … it's definitely up there with everything else.
"I never thought I'd end up where I am now. It's not easy to sacrifice things. I sacrificed a lot of time with my mates to be able to get strong to play in the NRL, and I'm living away from home, so I really had to combat the homesickness. Being Indigenous, you want to live close to each other and I lived at home for 18 years. When I left home, I found it really hard at the start, but you've just got to have the right attitude because anyone can do it, whether you're big or small. As long as you put your mind to it and ask for help when you find things tough."
So what's the last thing Preston will say to the boys right before they take to the field?
"I think all I have to do is give them a nod and tell them, 'Remember why you're doing this, remember who you're doing it for'.
"Young Indigenous kids will be watching this game on February 13, and they'll be saying to themselves, 'I'm going to play in this game one day'. We just want to give them something to aspire to."