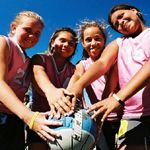 The National Indigenous Basketball and Hip Hop Challenge – the Vibe 3on3® – returned to Kempsey for the fifth time, and as usual, was another great success with over fifty teams participating.
The community turned out in force to experience the new-look, "Super Saturday" event at Melville High School, on Saturday, October 18, with local participants' smiling faces joined by visitors from South West Rocks, Crescent Head and Macksville.
"Kempsey turned out in great numbers and confirmed, once again, the mutual chemistry which exists between the Vibe 3on3® and the youth of Kempsey" said Claude Williams, event coordinator of the Vibe 3on3®. "With a tireless and dedicated local committee, it is no secret why the Kempsey 3on3 has always delivered in spades".
"Because Kempsey supports the event so eagerly and extends the hand of friendship so willingly, we at Vibe have always rated the Kempsey 3on3 the benchmark to which we compare all 3on3's", says Claude.
Joining the Vibe crew in Kempsey was Australian Seven's current representative Matt Sonter and former NRL stars Nathan Blacklock and Owen Craigie, who spent the day hanging out with participants members and community members. Other role models on hand included rapper extraordinaire Brothablack and artist and comedian Kevin Kropinyeri.
Again, one of the highlights of the day was the Soulja Boy competition, which has become a permanent feature at the 3on3, with the Vibe crew searching to find the best Soulja Boy dancers in Australia.
A big thank you goes out to all the event volunteers who worked so hard to make the event as enjoyable as possible for the young people of Kempsey. And a special mention to local sponsors, Durri Aboriginal Corporation Medical Service, Boorongen Djugun Aboriginal Corporation and Kempsey Sire Council for their ongoing support.
The Vibe 3on3® is a one day Aboriginal youth festival that incorporates basketball, dancing, art, culture and health. We aim to promote healthy lifestyles, strengthen communities and boost self-esteem. The Vibe 3on3® is also an excellent opportunity for health services and related organisations to introduce themselves to the wider community. For more information, go to www.vibe.com.au
For all media enquiries, please call Mayrah Butt at Vibe Australia on
(02) 9361 0140 or contact [email protected]