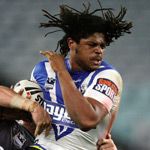 Jamal Idris will undergo scans today on the elbow he dislocated during the weekends win over Penrith.
The Bulldogs teenage star hyper-extended his elbow after pushing a Panthers defender away with 13 minutes remaining in the 19-12 victory at ANZ Stadium on Friday.
Bulldogs physio Tony Ayoub claimed after the game that the 18-year-old was not in too much pain, but after finishing up his commitments with the NSW side on Saturday afternoon, Ayoub admitted Idris's elbow had "blown up" overnight.
Ayoub said he was still confident there was no structural damage despite increased swelling.
Idris has enjoyed a spectacular season and his loss would be a big blow to the high flying Bulldogs who currently sit on top of the competition table.
"We'll give him an MRI. Certainly as far as I know it's not season-ending or anything like that," said Bulldogs coach Kevin Moore said after the game.
"I think he hyper-extended the elbow and may have some damage to the capsule or perhaps some of the ligaments in the elbow.
"Hopefully it's not too serious and he may only miss a couple of weeks."