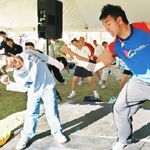 Vibe Alive kicks off in Coonamble tomorrow with special guests Microwave Jenny.
As more than 1000 students from around NSW gather in Coonamble for the first Vibe Alive of 2009, Chris Sarra and Kerrie Hayes have been announced as Vibe Alive Patrons.
Chris Sarra is a leader in Indigenous education, pursuing improved educational outcomes for Indigenous children through engagement with principals, teachers, community leaders and Government. Chris, as Principal of Cherbourg State School in South East Queensland where his Strong and Smart philosophy was born, enjoyed much acclaim demanding higher expectations for Indigenous children. He was recognised with the 2004 Deadly Award for Outstanding Contribution to Education.
"As Indigenous Australians we've had challenges in the past, but a stronger, smarter future is ours for the taking", he says. Vibe Alive has the vision to create opportunities for Indigenous young people, enabling all to be to the best that they can be, hence making Chris the ideal choice for Patron.
Vibe Alive is also proud to have Kerrie Hayes as Patron for another year. Kerrie is one of Australia's leading entertainment and event producers. Her record in the sporting arena is unsurpassed, producing major events for the Australian Football League, Australian Grand Prix Corporation, The Australian Rugby Union, Soccer Australia and Cricket Australia amongst many others.
A Sydney Teachers College graduate, Kerrie is one of the two founding principle producers of the National Rock Eisteddfod and says she is honoured to be a patron of Vibe Alive.
"I think the concept of Vibe Alive is outstanding," she says. "Where else is there a competition that includes singing, dancing, painting, Indigenous games, and much more? Vibe Alive is an event where you can be the best you can be."
Vibe Alive is also an event for the entire community, with a free concert on the first night. For the Coonamble concert, organisers are please to announce that rising folk/pop/jazz duo Microwave Jenny will perform.
Aboriginal singer/songwriters, Brendon Boney and Tessa Nuku, met a year out of high school, backstage at a show. Tessa's versatility and alternative twist to the jazz and pop genres mixed with Brendon's musicianship and harmonies makes Microwave Jenny the perfect couple to entertain and inspire at Vibe Alive.
The Vibe Alive Community Concert & Film Night is at the Coonamble Sports Ground, Castlereagh Street, Coonamble on Wednesday May 27 with gates opening from 6.30pm. This is a chance for the whole community to get together and enjoy a taste of Vibe Alive, featuring special performances by celebrity guests and the best of the best from the students of Vibe Alive. There'll also be fireworks and plenty of food and drink. This is a drug and alcohol free event.
Wrapping up the two days of music, sport, art and culture will be a Vibe Alive Dance Party and Vibe Break Off dance competition at the Coonamble Sports Ground on Thursday May 28 from 6.30pm.
Vibe Alive is a two day festival for young Australians of all backgrounds that incorporates music, sport, art, education and healthy living in a high-energy, youth-friendly setting. Vibe Alive is an exciting new event series funded by the Australian Government's Community Festivals for Education Engagement program – a program which supports targeted events that encourage school attendance, retention and healthy lifestyles for all young Australians, in particular Aboriginal and Torres Strait Islander students.
Vibe Alive offers students the chance to sing, dance, play, create and learn in an environment that allows them to express themselves, share their talents and celebrate Aboriginal and Torres Strait Islander cultures. Participants also have the opportunity to explore healthy living and career options and boost literacy skills.
Coonamble Vibe Alive will be held on May 27 & 28 at Coonamble Sportsground, on the corner of Castlereagh Highway and McCullough Street, Coonamble from 9am to 3:00pm both days.
For all media enquiries and interviews, please contact Mayrah Butt at Vibe Australia on 0405 834 016 or [email protected]