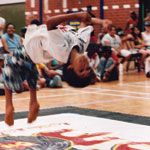 Ceduna has far exceeded expectations with their second successful 3on3 Basketball and Hip Hop Challenge over the weekend!
The community turned out in great numbers over the two days, bursting with enthusiasm as everyone came together to celebrate living a healthy lifestyle and having fun.
Held at the Ceduna Area School over the weekend of November 24 and 25, the opening ceremony featured a Welcome to country by local Elder Peter Miller on behalf of the Traditional owners, and a speech by Paul Barton of Families South Australia.
Participants smiling faces from Ceduna were joined by visitors from Koonibba, Penong, Thevenard and Yalata.
"The Ceduna event exceeded all expectations", Gavin Jones Managing Director and Executive Producer of the 3on3 said. "I am sure that every single person who came to the 3on3 this weekend had an excellent time whether they were rapping, rhyming, playing basketball or just watching their kids. Ceduna is certainly now established on the 3on3 calendar".
There were 10 local sponsors who rallied to support the Vibe 3on3 to ensure the local youth experienced a weekend they would never forget. Local sponsors who helped make the 3on3 possible in their area were:
o Ceduna Area School
o Families SA
o Ceduna Youth Centre
o Centrelink
o Ceduna Koonibba Aboriginal Health Service
o Ceduna District Health Service
o Ceduna Community Gym
o District Council of Ceduna
o Tjutjunaku Worka Tjuta (TWT)
o TAFE SA
"It was great to see kids from out of town gel so well with the locals, both on and off the courts. Participants from as far as Yalata and Penong attended, with the long haul being well worth the effort", Claude Williams, Producer of the 3on3 said after the event.
Our role model for the 2007 Ceduna 3on3 was Aaron Fa'aoso, Torres Strait Islander Actor, Producers and Television Personality who was very impressed by the talent in Ceduna!
Also in attendance was the local Ceduna Koonibba Aboriginal Medical Service who provided a stall and information packs for the community of Ceduna.
The Vibe 3on3™ is a two day Aboriginal youth weekend festival that incorporates basketball, dancing, art, culture and health. We aim to promote healthy lifestyles, strengthen communities and boost self-esteem. The Vibe 3on3™ is also an excellent opportunity for health services and related organisations to introduce themselves to the wider community. For more information, go to www.vibe.com.au
The Challenge
A total of 52 teams entered the challenge, each displaying great ability, enthusiasm and sportsmanship. We must congratulate the winners of the events:
WINNERS



Girls 10 and under: WILD CATS
Chyanne Shore
Wanda Shore
Shayla Shore.
Presenter: Shannon Willmott
Ceduna Youth Centre

Girls 12 and under: CEDUNA CHIX
Hameisha Miller
Kodesha O'Loughlin
Shamala Champion
Sonnie Bilney.
Presenter: Liz Whitbread
Families SA

Girls 14 and under: WEST COAST G's
Sarah Hubert
Rowinna Peel
Justine Graham
Lyn Hubert.
Presenter: David Topless
Ceduna Community Gym

Girls 16 and under: PINK GIRLS
Tamika Saunders
Janomie Saunders
Anzlee Carbine
Tinarra Saunders.
Presenter: Tracey Vincent
TAFE SA

Girls18 and over: PATCH UPS
Katarina Bilney
Narelle Carbine
Cirona Bilney
Tiffany Taylor.
Presenter: Aaron Fa'aoso
Vibe Australia

Boys 10 and under: 4 DOGST
Aran Montgomery
Brett Gray
Leighton Rowan
Cruz Mullan
Gareth Bowden.
Presenter: Paul Gregory
Families SA

Boys 12 and under: THE KINGS
Aaron Tschuna
Craig Ware
Che Champion
Shannon McNamara.
Presenter: Waylon Johncock
Ceduna Koonibba Aboriginal Health Service

Boys 14 and under: 1 LOVE
Aaron Binell
Jerome Newchurch
Adam Coleman
Keith Saunders.
Presenter: Belichia Saunders
Tjutjunaku Worka Tjuta (TWT)

Boys 16 and under: DIRTY SOUTH
Jordan Herburt
Kingsley Betts
Andy Willece
David Leonard.
Presenter: Jaleen Miller
Families SA

Boys 18 and over: US MOB
Harry Peel
Charles Coleman
Beaver Peel
Leroy Bilney.
Presenter: Phil Barton
Families SA

Rap Winners
1. Team 'Us Mob'
Harry Peel
Charles Coleman
Beaver Peel
Leroy Bilney

Team Card
Bronx Boys
William Lurie
Leroy Lurie
Winston Uhubert
Reggie Benbolt
Presenter: Phil Orcher

Boys Break Off
1. Anthony Coleman
2. Cruz Mullen
3. Kayden Brown
Presenter: Isaac Parsons

GIrls Break Off
1. Tiyana Mastrastarvis
2. Zalia Mallen
3. Shawanah Pickett
Presenter: Medika Thorpe








Puggy Hunter
David Topless
Presenter: Claude Williams