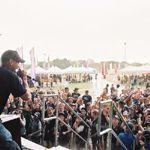 Over 800 students descended on the Rockhampton Showgrounds this week to take part in Vibe Alive – an exciting new youth festival that offers young people the opportunity to shine!
Vibe Alive is a two day festival for young Australians of all backgrounds that incorporates music, sport, art, education and healthy living in a high-energy, youth-friendly setting. Vibe Alive offers students the chance to compete in singing, dancing, basketball and art activities in an environment that allows them to express themselves, share their talents and celebrate Aboriginal and Torres Strait Islander cultures.
Participants also have the opportunity to explore healthy living and career options as well as boosting their literacy skills in the special Vibe Alive Buzz Off! spelling bee.
Vibe Alive has been held in five locations across Australia this year, with the community of Rockhampton chosen as the only Queensland location for the festival's 2008 program.
"Rocky really got into the spirit of Vibe Alive, capping off a sensational season of festivals," says Gavin Jones, Vibe Alive executive producer. "Not only was the weather hot – the talent was too!"
A host of celebrity guests were in attendance at the festival, including former Australian Idol Casey Donovan, star of So You Think You Can Dance? Courtney Walter, Australian Seven's Rugby Union player Matthew Sonter, former Harlem Globetrotter Dwayne Cross and Aboriginal artist and comedian Kevin Kropinyeri.
The overall winners of the Queensland Vibe Alive Cup were the Gracemere Juniors from Gracemere State School. The best performers of the festival were also chosen to perform at a special community concert, which also included performances by Casey and Courtney, and a surprise set by international New York's DJ Spin Easy, who has opened for the likes of Snoop Dogg, Busta Rhymes and Ice Cube. Over 1600 people turned out to watch the show and get into the spirit of Vibe Alive, with a spectacular fireworks display topping off an awesome night of entertainment.