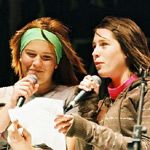 It's now less than three weeks until Vibe Alive lands in Rockhampton! This exciting youth festival has already partied its way across two states, with hugely successful festivals held in Coonamble and Port Augusta.
Now Vibe Alive is gearing up to bring the students of Queensland two days of creative, inspiring, healthy fun!
Vibe Alive is a two day festival for young Australians of all backgrounds that incorporates music, sport, art, education and healthy living in a high-energy, youth-friendly setting. Vibe Alive offers students the chance to sing, dance, play, create and learn in an environment that allows them to express themselves, share their talents and celebrate Aboriginal and Torres Strait Islander cultures.
Participants also have the opportunity to explore healthy living and career options and boost literacy skills.
Joining the hundreds of students expected at the event will be former Australian Idol Casey Donovan and star of So You Think You Can Dance? Courtney Walter. As well as performing for festival-goers, the stars will be judging students' performances and offering aspiring singers and dancers advice and inspiration.
The Rockhampton Vibe Alive will be held on November 19 & 20 at the Rockhampton Showgrounds New Exhibition Road, Rockhampton.
To help the community of Rockhampton celebrate this exciting event, a FREE Vibe Alive Community Concert will be held at Rockhampton Showgrounds New Exhibition Road, Rockhampton from 6.30pm on Wednesday November 19.
Registration for Rockhampton Vibe Alive is now open. Students will need to register through their school. Registration forms are available online at www.vibealive.com.au along with more info about the festival.
The Rockhampton Vibe Alive festival would not have been possible without the generous support of the following amazing people and organisations:
Our principal sponsor – the Australian Government through the Department of Education, Employment and Workplace Relations
Our major sponsor – Youth beyondblue: a youth depression awareness campaign
Our supporters – Sony, Questacon, the Rural Health Network, Global Colours, the Pharmacy Guild of Australia, Men's Shed and the National Film and Sound Archive
Our media partners – the Koori Mail, Deadly Vibe magazine, Deadly Sounds and vibe.com.au
For all media enquiries, please contact Alison on 02 9361 0140 or [email protected]