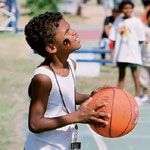 The Vibe 3on3 paid another visit to one of their favourite locations last month, and they certainly weren't left disappointed.
Murray Bridge has always been a favourite location for the Vibe 3on3® crew. In fact, the weekend of May 26 and 27 saw the 3on3 crew return to this vibrant river city for the fifth time!
One of the reasons Murray Bridge is such a great location for the 3on3 is the overwhelming community support that the festival receives.
"We had a great team of local people on the organising committee who did a really amazing job," says 3on3 coordinator Claude Williams. "We'd like to thank them all.
"A particularly huge thank you has to go to Kevin Kropinyeri Jnr, who was indispensable in pre-event preparations as well as over the weekend."
More than 45 teams participated in the structured 3on3 basketball, hip hop, breakdancing, art and health activities, with local young people learning new rapping and dance skills from MC Munkimuk and breakdancer extraordinaire B Boy 2 Ezy.
On hand to offer support and a few basketball tips was Adelaide 36ers legend Mark Davis, and other basketball teams from Adelaide also attended.
Actor and TV star Luke Carroll also joined in the festivities, hanging out with the locals and encouraging local kids to be the best they can be.
"There was a wealth of talent and skill displayed in all elements of the 3on3 over the weekend," Claude says. "There are heaps of kids with enormous natural ability and given the right opportunities, I think they have the potential to achieve at the highest level in their chosen field."
By the end of the weekend there were lots of happy kids and some very proud winners. As yet another successful Murray Bridge event drew to a close, the 3on3 crew said their goodbyes knowing that they'll be back again soon.
"The Murray Bridge community has always supported the 3on3," Claude says. "That's the reason we keep coming back."
The Vibe 3on3® is a two day Aboriginal youth weekend festival that incorporates basketball, dancing, art, culture and health. We aim to promote healthy lifestyles, strengthen communities and boost self-esteem. The Vibe 3on3® is also an excellent opportunity for health services and related organisations to introduce themselves to the wider community. For more information, go to www.vibe.com.au
The Vibe 3on3® would not be possible without our sponsors Rio Tinto Aboriginal Foundation, the Department of Health and Ageing through the Office of Aboriginal and Torres Strait Islander Health, the Department of Communications, Information Technology and the Arts and the Alcohol Rehabilitation and Education Foundation.
Local sponsors who helped make the Murray Bridge 3on3 possible were KMAK Aboriginal Art and Lower Murray Nungas Club. Thanks also to the Murray Bridge Aboriginal Health Service and Murray Bridge High School.
WINNERS
Boys 10 and Under
The Snakes
Matt Ten hoopen
Braden Ten hoopen
Nathan Tanavenko
Presenter: Lorraine Kartinyeri
Boys 12 and Under
Warriors
Dwayne Wilson
Jarrod Wingard
Bradley Oate
Presenter: Dorothy Wilson
Boys 14 and Under
Nungas with attitude
Joe Trevorrow
Kevin Kropenyeri
Ethan Kortiyeri
Stevie Sumner
Presenter: Verlaine Crompton
Boys 16 and Under
The Bearded Gnomes
Justin Appleton
Sam Byers
Scott Cahill
Johnna Rigney
Presenter: Medika Thorpe
Boys 18 and Under
Titans
Peter Wingarll
Michael Holland
Aldo Reid
Beau Miller
Presenter: Mark Davis
Girls 10 and Under
Hoop Sistas
Ivanah Campbell
Belinda Colless
Tyra Colless
Jerika Kropinyeri
Presenter: Luke Carroll
Girls 12 and Under
Ngarrinngieri Nungas
Courtney Reid
Shardonnai Karpany
Aninna Tarasenko
Presenter: Kevin Kropinyeri
Girls 14 and Under
2 Deadly
Jamaya Kropinyeri
Channon Kent
Jahnaer Newchurch
Presenter: Sandra Kirby
Girls 16 and Under
Black & Glamourous
Stacy Wilson
Sharnah Alhany
Kristy Oats
Crystal Newchurch
Presenter: Shane Rigney
Girls 18 and Under
The Champions
Darlene Karpany
Keisha Summer
Mary Garlett
Yasmin Johnson
Presenter: Mark Davis

Boys Rap
Titans
Presenter: Munkimark

Girls Rap
2 Deadly
Presenter: Phill Orcher
Boy Breakoff
1st Clarie Gaurlent
2nd Harry Clark
3rd Rossie Thorpe
Presenter: Isaac Parsons
Girls Breakoff
1st Aninna Taravenko
2nd Keerah Campbell
3rd Natasha Karpeny
Presenter: Rachael Kontominas
Best Team Card:
Ice Angels
Sascha Crompton
Jessie Walsh
Patricia A'hang
Leilani Mallie
Presenter: Dorothy Oats
My Story Winner
Winner: Kiali Cambelle
Presenter: Nancia Guivarra
Puggy Hunter Award
Name: Tyson Pens
Presenter: Claude Williams