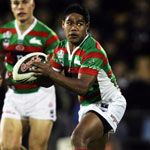 Greg Inglis has continued his scintillating State of Origin form, helping Melbourne surge to the top of the NRL ladder once more after running in three of the clubs nine tries in a 41 – 20 drubbing of North Queensland on Saturday night.
Utilising his now trademark fend, Inglis dispensed of Maroons teammate Johnathan Thurston for his first try.
Thurston, who was among the Cowboys' best on field, was again on the recieving end of some Inglis magic when in the 73rd minute the five eighth streaked away for his third try, pointing and smiling at the chasing Thurston on his way to the in-goal.
In other rugby league news, Greg Bird's State of Origin series may be over after the Blues star injured his knee during the Sharks thrilling one point win over Eels at Shark Park yesterday.
Having won man of the match honors in game one of the series, Bird will undergo scans today but is expected to miss the series third and final match next month.
Despite injuring his leg earlier in the week during training, Scott Prince is expected to take to the field tonight in the Titans clash with the Rabbitohs in Sydney.
Lining up against Prince will be South Sydney's young sensation, Aboriginal half Chris Sandow, a former Titans cast away who impressed in his debut match against the Warriors two weeks ago.