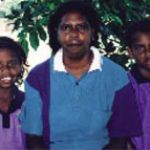 Name: Elizabeth Maude Olbor
Elizabeth Maude Olbor, or Maude as she is known to her friends, has lived almost her whole life in the small Cape York community of Hopevale. At the moment, Hopevale is dry, dusty and hot, and when it rains it floods. Well, that's according to Maude, and personally she couldn't think of any other place that she would rather raise her children.
"It's nice and quiet out here in the bush – that's why I love it. City life isn't for me," she says. "Here in Hopevale, my kids can enjoy the outdoors, like fishing and camping."
Maude's Children are Kegan, 13, and Sherona, 7, and thanks to their mother's support they have been able to successfully pursue many more interests.
"Both my children enjoy doing artwork, which they get from their grandfather," says Maude. "Kegan does sketches with charcoal and pencil, and they both like all kinds of sport. I encourage them in both.
"I'm proud of their art and their achievements at school, as well as the way they are so outgoing and friendly, especially with all the Elders. They are also very independent, which I think they get from me.
"I've always taught my children to respect their Elders, their culture and everyone around them."
The support and care that Maude bestows on her own children also extends to other children in her community. For the past four years, Maude has worked as a teachers' aide at the school where she was once a student – Hopevale Primary.
"I enjoy being with the kids and helping them out," says Maude, who regularly takes children out on sporting excursions for netball, Aussie Rules and soccer, among other sports.
While she finds her work at the school helping the students is particularly rewarding, her greatest thrill is watching Kegan and Sharona growing up to be such community-minded and caring people.
"I just enjoy watching them grow up so much, watching them as they learn new and different things all the time," says Maude.
Maude's work at the school reflects her belief in the importance of a helping hand.
"Making it as a parent when you are on your own is the hardest thing," says Maude. "I had plenty of support from my mother, father, brothers and sisters. My children have a very large extended family, which is a great thing.
"My advice to other parents would be to take life as it comes but don't waste it. Always be there for your children and to give them a helping hand."