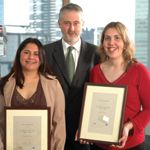 Story: Potential Plus
Two remarkable students have been honoured with a special award.
A new award that has been created to recognise the contribution and achievements of young Indigenous Victorians has been presented to a duo of talented and remarkable young women.
The inaugural Ricci Marks Aboriginal Young Achiever award was presented to Joleen Ryan of Geelong and Nayuka Hood of Carlton on August 25.
The award has been created to honour the memory of Ricci Marks, an exceptional 21-year-old Aboriginal man who, in his short life, made an outstanding contribution to his community through cultural work and sport. Ricci was awarded the Aboriginal Young Achiever Award during NAIDOC Week in 2002. Tragically, his life was cut short in a car accident last year.
The first recipients of Ricci's award have both achieved amazing things. Joleen is a 21-year-old fourth-year student at Deakin University who is studying for a Bachelor of Social Work. This year, Joleen was elected President of the Deakin University Students Association. She has also published a book, entitled Urgent, which deals with Aboriginal health issues. The book received the Youth Health award from the Australian medical Association in 2004.
Joleen was also a member of the first National Indigenous Leadership Group in 2001 and was the youth representative on the Victorian Indigenous Family Violence Task Force from 2001 to 2003.
Nayuka is 20 years old and is studying for a Bachelor of Arts degree at Melbourne University. In 2003 she was the youngest graduate of the Victorian Aboriginal Community Services Association and Royal Melbourne Institute of Technology's Leadership Program.
She has worked in the area of Aboriginal Health and is currently a Caregiver at the Mackillop Family Group Homes, working with children with disabilities, young offenders and creating healthy lifestyle options for disadvantaged children.
A former Miss NAIDOC, Nayuka was selected by the Office of Youth within the Department for Victorian Communities to present a paper dealing with relationships, families and education from an Indigenous perspective at an International Youth Congress in Berlin later this year.
As part of their award, both women have received a $5000 bursary.
The award was presented by the Victorian Minister for Aboriginal Affairs, Gavin Jennings.
"These two young Indigenous people are an example of the depth and wealth of talent that exist within the community and are an indication of the promising future for Aboriginal Victorians," he says.
"It's important to support emerging leaders within Aboriginal communities and encourage them to pursue studies in order to maximise their potential."