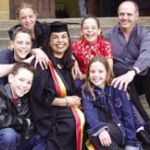 Name: Adele Chapman-Burgess
Parents who are doing their best to raise a large family won't find a better role model for tackling large tasks with poise and vigour than Adele Chapman-Burgess.
In 1982, Adele became the first Aboriginal woman to give birth to quins. Since then, she has become just as accustomed to camera crews and journalists as she is to dealing with the demands of five kids. Her children – Jack, Louis, Erika, India and Georgia – have all grown up under the media spotlight.
"All the kids think it's pretty cool," says Adele. "They are quite used to it because at every milestone they reach, there is some media attention."
Despite raising five children simultaneously, Adele didn't let her important family commitments stop her from pursuing her own goals. She recently graduated from Sydney University with a Bachelor of Education degree after three years of travelling between Glen Innes and Sydney.
She recently began work at Glen Innes High School, where she teaches a range of subjects. Although teaching was not always on the cards for Adele, due largely to her family commitments, it is something that she has become passionate about and she believes that the influence of raising quins may have helped push her towards teaching.
"I wouldn't say that teaching was something that I had always planed on doing, it was one of those things that came up along the way, and now it's a bit of a passion for me really, along with rasing the kids it has gone hand in hand"
Adele's work ethic is testament to the belief that if you have the will and the drive to get there, you can achieve almost anything. Of course, the help of others goes a long way as well.
"Because [my husband Ian and I] come from a small town, we receive heaps of support," Adele says. "Before I had the kids, I worked at the Glen Innes hospital and was lucky enough to know some of the right people to get good help. Up to around 40 people a week would come into the house to help with the kids, so they are really used to having a lot of adults around."
As most mothers would tell you, raising even one child isn't an easy task, so imagine the extra considerations needed to raise in raising quins.
"We have always treated the kids as individually as possible, giving them five of everything," Adele says.
For Adele, being a mother is an all-encompassing experience.
"Being a mother is really an enormous feat," she says. "It's huge. It's the good with the bad, the happy with the sad. It's something you really can't describe in words."
Adele understands the daily stress and pressure of being a parent better than most. So she has some advice to other parents out there.
"Make sure you take care of yourself, because unless you do that you're not going to be much good to your children," she says. "Always make some time for yourself. Have a bubble bath, even if the kids are banging down the door.
"It doesn't need to be expensive either. You can just go for a walk in the park, read a book and include your kids in things like that. Most importantly, though, when it comes to your kids, I would tell people to just love them and be there."