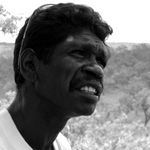 Deadly Vibe Issue 97 March 2005
A Little Respect
He's from the bush and he's proud " George Rrurrambu gets the message out.
Talking to George Rrurrambu, you get a sense that you are in the presence of a powerful wisdom " a man who appears to hold a deep understanding of the mysteries of life.
For George, however, it's all very simple, and boils down to one single word: respect.
"Respect is the most important thing," he states emphatically. "It's the first thing. You respect our lore, we respect your law. That way we can live together."
George has been spreading that message for over 20 years, beginning his journey as part of the pioneering Aboriginal band Warumpi Band.
Warumpi released the first rock song in an Aboriginal language, Jailanguru Pakarnu (Out From Jail) in 1983, and went on to bring their music to people in both the big cities and the remote communities of Australia, as well as across the seas in Europe, Japan and the South Pacific.
"After we played our last concert in Darwin in 2000, I promised my people that I would never stop," he says. "The only way to stop me singing is to throw a microphone into my coffin."
After performing solo for a while, George formed his new band, Birdwave, who he recently performed with at WOMADelaide, a three day world music, arts and dance festival held in Adelaide 's Botanic Park .
George literally "found" his new band while at the last Garma Festival.
"These two guys were showing me to where my tent was," he says. "They told me they loved my music and sometimes sang my songs. So we had a jam around the fire and I just knew " these were my guys."
Inspired by his new band, George has been writing a lot of new material, including a song about his childhood, when he used to make his own sailboats out of driftwood and scrap paper.
"Sometimes they would come back, sometimes they would sail away," he says. "Just like today " some people sail across the sea, some people come back."
George has also been giving workshops and lectures on the traditional Yolngu way of life, travelling as far as Berlin and Bermuda to teach others about his people and their culture.
"I teach them about the way we think, the way we care about this land," he explains. "For instance, women never touch the didgeridoo, only men " that is our lore and we respect it.
"I was speaking overseas, and this wealthy woman, she wanted to play the didgeridoo. That's all she wanted to do. I explained that she couldn't, and she got upset. I told her " I should be the one getting upset! It's our lore, you have to respect it."
George has also recently embarked on a theatrical career; last year performing his show Nerrpu " Dhawu Rrurrambuwuy (The story of George Rrurrambu) at the Darwin Entertainment Centre.
As well as bringing his story to others, George has been putting a lot back into his own community, working with young people and teaching them the importance of education.
"I tell them that these days you need your higher school certificate," he says. "We live in a new era, and this piece of paper is important if you want to get a job and earn money. Don't be shame " go to school."
He has also been teaching young people about music and the music industry, working at both the Northern Territory Open Education Centre and Corrugated Iron Youth Arts (CIYA).
"We call it CIYA, "˜cause it's like "˜See ya' " you gotta get out there and find your own way back," George explains. "Write your own song, your own story."
George believes it is important to share knowledge with as many people as you can, and only through sharing knowledge between black and white can we reach true reconciliation.
"If people want to understand us, we have to be ready to supply them with the knowledge they are looking for " to bring us together," he says, before breaking into the Warumpi favourite, From the Bush.
"Listen to me! I'm from the bush!" he belts out. Put like that, it's hard to refuse.
(story 1/3/2005 end)
George Rrurrambu is a pioneer of Aboriginal music. Originally from Elcho Island and lead singer of the famous Warumpi Band, George's recording career began in 1983 with the single "Jailanguru Pakanu" the first rock song released in an Aboriginal language. Since then he has recorded Big Name No Blankets (1985) Go Bush (1988) and Too Much Humbug (1996) all with Warumpi Band. George has now embarked on his solo career with the release of hi album, Nerbu, Message (Transmitter).
George released the album in remote communities first, performing at schools and community workshops, as well as in Katherine, Jabiru, Oenpelli and last year's Festival of Darwin.
"I took my music first to the remote communities where they have a problem getting into a town, to my own people," said George.
The album features 12 tracks, performed in English and Luritja, including the much – loved favourite "Island Home". This is definitely goose bump material.
Other tracks include "boomerang" described by George as a boyfriend and girlfriend song, "Wake Up Australia," which talks about reconciliation and becoming a republic, and "Lapu", a song about driftwood ("lapu") and those children who bear that name and who are beautiful examples of nature, like driftwood.
George's smooth fusion of reggae and traditional language comes together on the album to create a contemporary cultural sound that, while reminiscent of Warumpi, is still unique.
George is a seasoned professional. The Warumpi Band began their career in the early 1980's and toured extensively along the most remote and dusty roads of the Northern Territory and Western Australia. They went where no other Australian band had been before – and where no Australian band has been since. For 20 years they toured all capital cities as well as Europe, Japan and the south Pacific.
We wish George continued success in his solo career.