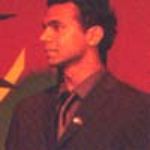 Deadly Vibe Issue 60 February 2002
Swim for it!
Bruce Martin knows all about treading water. As a water polo player who has represented the ACT and Australia in the sport, he's had to be careful not to touch the bottom (or sides) of the pool throughout games played in the former Yugoslavia, Hungary and Italy. Not bad for an 18 year old!
Born in Cairns, Bruce lived in his mother's community of Aurukun on the western side of Cape York until he was five, learning Wik Mungkan, which he can still speak. Having an anthropologist for a father meant that he was bound to move around a bit as a youngster. In all he attended 10 different schools, the last of which was Lake Gininderra College in Canberra where he completed Year 12.
Now getting ready to do Arts/Law at the Australian National University, Bruce is thrilled to have just been picked for the Junior World Championships squad for 2003.
"The onus is really now on me to train and keep fit. There's a training camp twice a year and the squad will be cut down in April, then again next year. But there's no chance I'll drop out along the way – I'm going to be on that team!"
We don't think he'll drop out, either, because Bruce Martin is a sports star waiting to happen. In fact, he's already happening. At last year's Aboriginal & Torres Strait Islander Sports Awards, he was named ACT Achiever of the Year, and also won Sports Star of the Year at Lake Gininderra College. Add to that the fact that he's represented the ACT in basketball, swimming, volleyball and rugby union, and you realise that this young man can achieve anything he sets his mind to, including university.
"I could have gone overseas to play in Italy as part of a development program, but I'd rather go straight to uni," he says. "Water polo is very important to me, but I want my studies to be my main focal point. It all comes down to what I can give back to the community, in particular my mum's community."
Proud of his Aboriginal heritage, Bruce went to Ireland and the UK for a Peace and Reconciliation Conference in 1998. He recalls giving a talk at a family centre, where he tried to explain where his mother was from.
"I said that I lived in Canberra while my mum was from Cape York and lived in the bush, and this little old Irish lady goes, 'Oh! So your mother lives in a bush, does she?' She thought it was an actual bush, like a plant!"
Bruce started swimming at age six to overcome asthma. By the time he was 14, he was swimming seven and a half kilometres every night. Understandably, he was getting a little bored. Then a friend suggested he try water polo.
"Within six months I was playing for the ACT, and before I knew I'd been picked for the Australian Schoolboys U18. Water polo's great because it's a team sport and that appeals to me more than something solo like swimming. Plus I was able to utilise my swimming training and my ball skills from basketball."
In the game, Bruce's positions are swimmer, outside shooter, and driver, which demand a combination of speed, agility and strength. Standing six feet two inches tall and weighing in at 85kg, he is quite capable of taking care of himself. But he wasn't quite prepared for what happened to him in competition against Hungary – the undisputed world leader in water polo – in 2000.
"We were playing in this natural spring with rocks at the bottom, and the Hungarians were swimming down, picking up rocks and putting them in our swimmers! I actually got attacked so badly that I vomited and had to get out of the pool."
For anyone who saw the underwater camera during water polo at the Sydney 2000 Olympics, you'll know that aggressive grabbing is the norm in elite-level competition. Then again, for a river game that was invented in England in the 1850s as a form of water rugby – and in which players regularly passed out from injury – it seems hardly surprising.
"It is a very physical game," acknowledges Bruce. "But you shouldn't let it get to you. More importantly, you shouldn't get into a position where your opponent can do that to you, whether that be elbowing, kneeing, punching or kicking."
Right now, though, Bruce is preparing himself for torts in Canberra rather than more torture in Budapest. Come 2003 in Italy, however, and he's adamant he'll be part of that U21 squad.
"If you dedicate yourself to something, it can take you a long way."
(Story 1/2/2002 end)