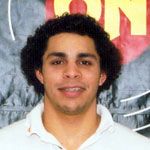 Deadly Vibe Issue 59 January 2001
Roket Man
Australia's best Indigenous swimmer is Speedo-ing towards a fantastic future in international sport. Deadly Vibe laps it up with Rockhampton's own guided missile, Ashley Anderson.
Swimmer Ashley Anderson has achieved a great deal since we last profiled him in Vibe. Now a strapping 17 year old with a soft, husky voice, Ashley has collected six gold medals from various competitions around Australia and the world, including the 200m backstroke at last September's New Zealand Short Course Championships.
Ashley's not averse to breaking the odd record either. At 2000's Sydney Youth Olympic Festival, he set a new 16-years Australian record in the 100m backstroke. In that same year he competed overseas in the FINA Swimming World Cup, taking bronze in the 200m individual medley (IM).
A Gangalu fulla from Rockhampton, Ashley was chosen to represent Australia at three World Cup meets at the end of last year. Travelling to New York, Shanghai and Melbourne, he competed in the 100m, 200m and 400m IM, as well as the 200m backstroke. At times coming second or third in his heats (out of a field of 25 or more), Ashley managed a credible fourth place in the 100m IM finals in both Shanghai and Melbourne.
"I did really well in some heats but unfortunately I just couldn't back it up in the finals," says Ashley. "I think fatigue played a part, as I was pretty tired from all the travelling. But I managed to take a second off my personal best in the 100m IM in Shanghai, and to take it down another half second in Melbourne."
Ashley really enjoyed visiting New York City, and was particularly impressed by its size and the friendliness of its inhabitants.
"In spite of everything that has happened there, they're all just going about their lives without too much fuss. They're very strong people, the Americans. Everyone was so kind and they loved us being over there."
However, China was a little more of a culture shock.
"I was in a supermarket and they had all these dark green toads for sale, sitting in tanks of water!" he laughs. "I stayed away – I didn't want no toad jumping out on me! I saw them in packages, too, all ready to be shipped off. I tried eating with chopsticks, but I don't know how to use them. I'm not a great fan of that kind of food, I prefer my mum's roast dinner."
Throughout the meet, Ashley got to meet his fair share of swimming greats, including French butterfly champion Franck Esposito, and the first person to swim the 100m freestyle in under 50 seconds, American Rowdy Gaines.
"These are people who I've really looked up to, so it was a great honour to meet them and just be in the same company as them," he says.
Ashley has been swimming since he was five years old, when he followed his older sisters into the local pool. It wasn't long before he was outswimming them, and at the age of 10 he began competing.
Now training an incredible 33 hours a week with renowned coach Otto Sonnleitner, Ashley has special dispensation to complete Year 12 over two years, giving him more time to swim, jog, work out in the gym and focus, focus, focus.
"The balance is pretty good at the moment. I need it in my life to feel good about what I'm doing. It helps keep things in perspective and allows me to reach my full potential. Right now I just want to pass school and then look at my options – I don't want to be a rocket scientist!"
Who needs to when you're already a rocket man? (In his hometown he's affectionately known as the Rockhampton Rocket.) But rockets need to stay in tip-top condition, so while the rest of Australia took time off around Christmas and New Year's Eve, Ashley dared not skip more than a day or two of training. After all, he's got the Commonwealth trials to think about.
"My goal for 2002 is to make it onto more Australian teams. It's a great honour to be able to represent your country. If you're Aboriginal, then it's even more special because you're representing your people as well."
Being only 17, Ashley is yet to specialise in one or another stroke. This is why most of his events are IM.
"When you're young the coach encourages you to swim all the strokes," he says. "That way, they can gauge your talent and then help you specialise as you get older. I don't know what I'll specialise in, I'm still working on it. Endurance wise I'm sprint to middle distance, which means I have 'fast twitch fibres', so my event could end up being 400m free or 50m breast. I just don't know at this stage."
When he's not in the pool with Otto, at the gym with his personal trainer, or receiving his twice-weekly massages, Ashley likes to spend time with his extended family.
"I have a cousin who lives locally and I like to hang around with him. We go driving, maybe down to a freshwater creek for some swimming. Play games, watch movies."
And while he loves his two older sisters ("They've been very supportive towards me"), Ashley sometimes wishes he had a little brother.
"I'd have someone to play on the computer with, then. My sisters are too busy reading their Cleo magazines!"
Or exercising. Ashley is not the lone fitness freak in his family. One sister is a swimming coach herself, while the other loves her aerobics classes. And her mother is an avid walker.
"We're one of those 'Life – be in it' families," he grins. "My sisters are really happy that I'm carrying on a tradition they started. Although if I raced them nowadays I'd probably have to give them a 25m headstart!"
While admitting to being something of a local hero in Rockhampton, Ashley is relieved not to be set upon at the end of every meet by an autograph-hungry mob, which is what the likes of Ian Thorpe and Grant Hackett have to contend with daily.
"That said, I enjoy mixing with the kids and giving them advice. If I can help young Aboriginal kids get into swimming, then hey – I've got no problem with that. It's great to be able to help in any way I can."
(Story 1/01/2001 end.)