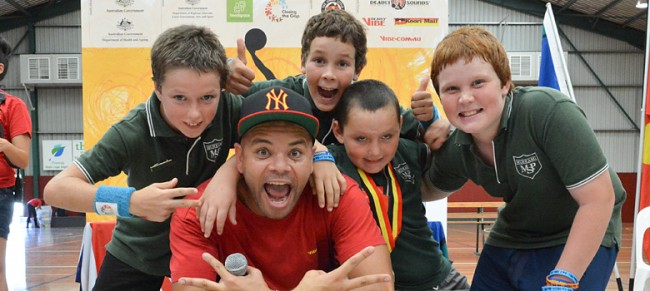 The countdown is on to the National Indigenous 3on3 Basketball and Hip Hop Challenge – Vibe 3on3® in Leeton, with young people getting ready for the action-packed event on Wednesday 26 February, at the Leeton Indoor Stadium, Leeton.
Event Executive producer Gavin Jones says planning for the Leeton Vibe 3on3® is going well with the local community getting behind the event.
"We are looking forward to providing a fun-filled and healthy day with lots of activities and learning. I know the young people of the Townsville and surrounds are counting down to the event – and so are the Vibe crew and our role models," he says.
Hosted by actor Luke Carroll, the event features a 3on3 basketball tournament, rapping and break dancing lessons, art workshops, a dance competition and a health expo, all accompanied by a backing track of the latest RnB, hip hop and Indigenous music.
Exciting role models for the events include artist and comedian Kevin Kropinyeri, Move It Mob Style® dancers Jake Thomson and Juanita Duncan, Jimblah, one of the freshest and most powerful voices in local hip hop in Australia, and local sportsman, Joey Williams.
Along with a host of inspiring role models, the event features a health expo which brings local and regional health organisations together into one area so that young people can connect with the health providers in their communities, and learn about their health in a fun, engaging and interactive environment.
Representatives from the Department of Sport and Recreation will also be holding traditional Indigenous games with the students. This program provides the opportunity to experience aspects of Aboriginal and Torres Strait Islander culture through physical activity, helping students to learn about and enjoy traditional games and sports.
"We've had an overwhelming response from local health organisations and community groups. The Leeton 3on3 Health Expo is promising to be a real feature of the event," Mr Jones says.
"There will be interactive elements and giveaways, and lots of information for young people from healthy living through to good mental health and nutrition."
The Vibe 3on3® – is a fun, free event for all Australians. The event aims to promote healthy lifestyles, strengthen communities and boost self-esteem. The Vibe 3on3® is also an excellent opportunity for health services and related organisations to introduce themselves to the wider community. For more information go to deadlyvibe.com.au
Vibe would like to acknowledge the assistance of "Supporting Communities to Reduce the Risk of Suicide" component of the "Taking Action to Tackle Suicide" Program.
The Vibe 3on3® would not be possible without its Principal Sponsor the Department of Health as well as our sponsors – the Department of the Prime Minister and Cabinet, Headspace , and the National Rural Health Students Network and our local sponsors including Leeton Shire Council, Mick's Bakehouse, Woolworths, Department of Sport & Recreation (Wagga Wagga), and the Golden Apple Super Store (IGA).
We'd also like to acknowledge our supporters the Jimmy Little Foundation, Koori Mail, Deadly Sounds, Deadly Vibe, Deadly Vibe Wire and deadlyvibe.com.au.