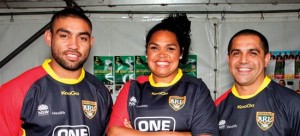 Social Justice Commissioner Mick Gooda has welcomed the formation of a new national voice for the health interests of Aboriginal and Torres Strait Islander people – the National Health Leadership Forum (NHLF).
Described as a turning point towards better health for our mobs, the NHLF is part of the National Congress of Australia's First Peoples, and now becomes the national body for Aboriginal and Torres Strait Island peak bodies in the field of health, and the national representative voice to Governments on Indigenous health.
"We have seen many successful health partnerships at the State and Territory level, but this voice at the National level has been the missing piece in the puzzle," said Mr Gooda.
"The NHLF will ensure governments don't stop at just consultation but work in true partnership with Aboriginal and Torres Strait Islander people to improve health outcomes for Indigenous Australians."
Eleven Aboriginal and Torres Strait Islander health groups have teamed with the National Congress to form the NHLF, which will be led by Congress Co-Chair, Jody Broun, together with Justin Mohamed, Chair of NACCHO (National Aboriginal Community Controlled Health Organisation).
"Congress members have said that one of their top priorities is health – especially mental health and chronic disease. This is not surprising given both the health statistics confronting our people and the numbers of our people involved in health services," said Ms Broun.
"For example, chronic disease contributes to two-thirds of the health gap between Indigenous and non-Indigenous Australians, and the death rate from diabetes for our people is seven times higher than that of other Australians.
"Clearly we will work in collaboration with and recognise the expertise of other bodies like the Indigenous Mental Health Advisory Group and NATSIHEC and draw on input from other Congress members – individuals and organisations."
For more info on the NHLF, visit nationalcongress.com.au
 That's 'One  Deadly Step'
Getting regular health check ups is the key to living a long and fulfilling life, and to help raise awareness on health screening, the Australian Rugby League has teamed up with NSW Health to launch the 'One Deadly Step' program, a new initiative that aims to promote screening for chronic disease in Aboriginal communities.
"Health professionals will screen participants for a range of health conditions, such as kidney disease, lung disease, heart disease and diabetes, with a total of 12 health-screening checks being offered," explained Minister for Medical Research Jillian Skinner, speaking at the program's launch in Campbelltown, Western Sydney.
Along with the health checks, the Australian Rugby League will provide sporting workshops and role models to encourage community participation, and Rabbitohs' star Nathan Merritt is on board as an official ambassador.
Over the next 12 months, five further 'One Deadly Step' events are planned across NSW in Wyong, Kempsey, Griffith, Dubbo and Redfern.