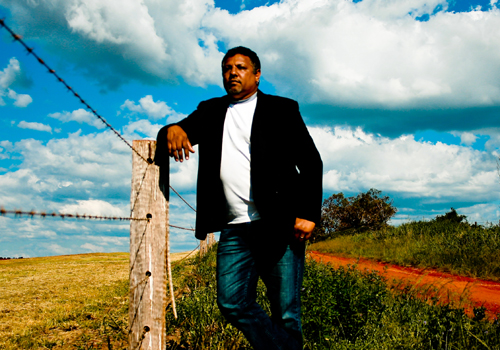 Former Tribal Link front man Andrew Beckett joined Rhoda Roberts in the studio to chat about his new EP and life in music.
RR: Hi Andrew, thanks for joining us on Deadly Sounds. I'm sure many people will remember you from the band Tribal Link. Now you have a new EP out called The Day, which is an interesting title. Can you tell us about it?
AB: It's a five-track EP and the guy who did the design, the mastering and the layout, Jeremy Bennett, was talking to me about the title and I originally suggested Every Day is a Struggle, but we thought that's probably a bit negative. We threw some ideas around and we came up with The Day and I just went with it.
RR: Well it's a great EP and the cover is fantastic, with an old ute on the front and I love the corrugated iron. Tell us about the track 'Funky Rodeo'.
AB: That song originated from Woorabinda – we have the bull rides in the Woorabinda Rodeo. One year we had that bull 'Chainsaw' that threw a lot of the big riders – he was pretty famous, but I think he's gone into retirement now. Anyway, I was sitting around watching the rodeo and thinking about how so many Indigenous communities around Australia can relate to rodeos. The first thing they think of is, 'Oh yeah, rodeo … country music!' I wanted to do something outside the box and decided to write a song called 'Funky Rodeo', so I started strumming away and that's how it came about.
RR: You've supported some really high-profile bands such as Midnight Oil and Powderfinger in the past – what was that like?
AB: Well for me personally it's a highlight, coming from an Aboriginal community and going on the road with Tribal Link, it was good to be meeting high-profile players and I suppose just seeing how it all worked. With the truck bumping in and setting up all the gear and it was a great opportunity for exposure.
RR: So what's been the biggest difference in moving from working within a band to being a solo artist?
AB: I've matured as a musician and as a person, so I suppose I treat it differently now. I'm more focused on getting the sound and the product out there because I've got a wife and children now – so it's more responsibility."
RR: This EP has been a long time coming … Were there any periods in the last decade where you went 'Look, I have to earn a living, I've got a family at home', or you thought it would never happen?
AB: Well, it's been a long journey for me, Tribal Link was my baby. We did actually get signed to Warner but nothing really eventuated and the boys and I all parted ways. We're still good friends and we see each other from time to time.
RR: And it was very rare for Indigenous artists to get signed by one of the majors at that time in the '90s. How did they approach you?
AB: When we first started playing in Woorabinda, we had never done the cover scene as normal bands do. I said to the group, 'Here guys, here are some songs I wrote', and the Woorabinda Council gave us a little bit of money to buy a couple of guitars and amps. Our first actual gig was Battle of the Bands out at Emerald and I said, 'If we can cut it here we should be good enough to play outside.' So we went in to it, there were 10 bands from different parts of Queensland – the two feature acts of the night were Ganggajang and The Choirboys – and we walked away with second place and $1000. From there we went to the Central Queensland Rock Awards and went to Brisbane for the semifinals. We played in front of three judges somewhere along South Bank and I think it was Powderfinger who won and we were the runner-up.
RR: It's been wonderful talking with you, Andrew, we wish you all the best with The Day – are we going to see an album shortly?
AB: "Well, I've been at this for the last 20 odd years and this EP is my very first offering to the music Industry as a physical recording, so right now I'm just focusing on promoting this one.
Visit www.andrewbeckett.com.au to listen to and order Andrew's new EP. You can also catch him performing at the Wide Bay/Burnett NAIDOC Ball, Brothers Sports Club, on Saturday, 3 July.