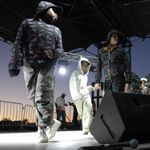 Vibe Alive is all about recognising that young fellas, like you, have heaps of different talents. So, whether you're good at sport, singing, dancing or something else entirely, you'll get plenty of opportunities to shine!
COMMON GROUND (Indigenous Games)
You can learn about and participate in a range of traditional Aboriginal high-energy games, such as Nanyima, Kalkadoon kee'an and Mer kolap, to name a few.
Whether you excel at batting, throwing, fielding, running or catching . . . there is a position for you on the field.
GOOD VIBRATIONS (Performance)
Vibe Alive recognises that every young person has his or her own talents, whether it's break dancing, rapping, hip hop, yodelling, ballet, jazz, tap or chant; you don't need professional training to win, just a great idea and energy to burn!
Here's a chance for your team to get up and perform. Each team gets two minutes to perform a song, dance, or mixture of both.
Whether it's a dance routine, singing or both, you can score points by performing in front of our panel of celebrity judges, who'll be looking for the most exciting performance.
If you can move to a beat, strutting your stuff on the dance floor will score you points! Either prepare a routine before the event, or just get out there and freestyle.
If you can sing or rap, yodel or chant – we want to hear you, loud and proud! Whether you prepare something before the festival, or improvise on the day, you can score points for style and creativity, stage presence and teamwork.
Up to 12 team members can take part in Good Vibrations! One team member can perform solo, but remember that every extra team member who participates earns extra points for their team.
To give your performance the WOW factor, prepare your routine or song before the event by using one of the tracks provided on the special Vibe Alive CD, which we'll send to you once your school has registered.
Each performance is limited to two minutes.
PAINT IT UP! (Art)
This is where you get the chance to show off your artistic flair as we challenge you to Paint It Up!
To begin the session, our special guest Indigenous artist will talk about some of the history of art and show you methods and types of art that have been passed down through the generations. When you're all inspired and ready to create, you can work together to create a work of art based on a local theme. We'll supply all the materials, all you have to do is turn up, listen and get creative!
OUR CULTURE
With an interactive mix of story telling, dance and instrument playing, cooking, Q&A sessions and local arts and crafts, Elders will take you on a fascinating cultural journey into traditions that are many thousands of years old.
FEEL THE VIBE (Health)
You need to be fit and healthy to be the very best you can be. But what's the best way to stay in shape? Feel the Vibe, a special Vibe Alive health expo, will teach you about your body and mind, and how to look after yourself.
You'll also find out why staying away from cigarettes, alcohol and drugs helps you to look and feel good, and get the most out of life!
Fast, funky and focused on you, this workshop has fun, hands-on activities. Points are awarded for all students who attend Feel the Vibe.
FULL-ON FUTURE (Careers)
A full education means a full-on future, but what does that future hold? Once you finish school, you may want to do more study or training, or just get out there and find a job. Or maybe you're just not sure yet?
Full-On Future is Vibe Alive's careers expo, where you can find out about your options once you finish school. There'll be representatives from education, training and industry to offer advice, information and answer your questions.
PUTTING IT TOGETHER (Literacy and Numeracy)
There will be a special edition of Deadly Vibe magazine filled with engaging games and competitions for teams to complete and submit at the festival.
The magazine requires literacy and numeracy skills for find-a-word games, comprehensions, puzzles, problems and treasure hunts with plenty of interesting discoveries as well to add to the fun and excitement.
To help prepare for Putting it Together, get your hands on the latest edition of Deadly Vibe magazine or visit www.vibe.com.au/vibealive to dowload activities.