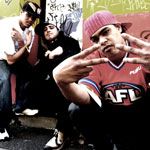 Indigenous hip hop is quickly gaining steam on the Australian music scene, steadily moving from dusty outback workshops to the big stage of the country's major cities.
All around the country, Indigenous acts are leading the way when it comes to innovative and socially conscious hip hop music that is finding an audience – not just in our own communities but in the wider hip hop community in general.
This isn't to say Indigenous hip hop is losing its "realness", or forgetting where it comes from; far from it. You only need to take a look at Indigenous hip hop crew Yung Warriors to see that Indigenous hip hop acts can reflect and speak to the community while also strutting the mainstream stage, earning wider appeal.
As well as touring to Indigenous communities and conducting hip hop workshops with young fellas, the Yung Warriors have this year performed in front of thousands of new fans at both the Big Day Out and the 50 Cent concert in Melbourne.
The Yung Warriors consist of Tjimba Possum Burns, an accomplished musician who plays guitar, keyboard and didgeridoo and is also a producer. His father is the well-known Aboriginal guitarist and songwriter Selwyn Burns (Coloured Stone, Mixed Relations, No Fixed Address, Blackfire and more) and his late grandfather was the renowned artist Clifford Possum Tjapaltjarri. The other members of the crew are Narjik Day Burns, who is Tjimba's brother, and Danny Ramzan, their cousin.
The group says that the family connection gives them that natural communication on stage only blood brothers can have, with this connection also crossing over to the musical side of things as well, with all three fellas meshing styles and ideas harmoniously together on their beats and instrumentation.
After performing one track at the Big Day Out concert in 2007, Yung Warriors were asked to return this year to perform a whole set ,and have relished the opportunity to bring their music to new audiences.
"Just hearing those cheers and meeting heaps of indie music fans at the Big Day Out shows us that there is nothing stopping young Indigenous musicians from appealing to all kinds of music fans," Tjimba says. "They welcome our music and our participation fully and it feels great."
In similar fashion, the group's recent appearance as a lead-up act at 50 Cent's recent concert at Rod Laver Arena in Melbourne was described by the group as a dream come true, spreading the Yung Warrior message to even more new fans.
"It was just huge being out there with the sound and the crowd," Tjimba says. "You feel like you really reach people."
While these two gigs were a major buzz, no gig could have been more personally important than their performance in Canberra to coincide with Government's apology to the Stolen Generations.
"We were so proud to be asked to perform for everyone gathering in Canberra to hear the national apology to Indigenous people," Tjimba says. "Like it says in our song 'Things will get better'."
Yung Warriors' music is all about inspiring young fellas to write about Indigenous culture – they rap about land and country, life in the city, drugs, determination and about living with hope and pride.
"It has always been a struggle for me, my brothers and my sisters and my uncles and aunties," Tjimba says.
"We've had to carry a great burden, but that has made us stronger.
"I am very strong and say hip hop music is a way for Aboriginal youth to find a better path in life."
Yung Warriors' debut album Warrior for Life is now available in most JB Hi Fi, Leading Edge and independent music stores.
For more info on the group or to check out some of their tracks, head to www.myspace.com/tjimbaandtheyungwarriors