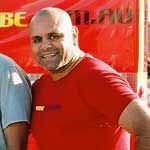 Kevin belongs to the Ngarrindjeri Nation of the lower River Murray and Lakes region in South Australia. He grew up along the River Murray in his home towns of Tailem Bend and Murray Bridge.
The desire to paint lay dormant until July 2005 when Kevin was living and working in Bourke (Far Western New South Wales). People took an interest in his drawings and encouraged him to transfer them onto canvas.
Using bright colours and bold designs, Kevin describes his work as Contemporary Aboriginal Art. Although dot paintings are not the traditional style of the Ngarrindjeri, Kevin loves to create dot paintings that takes months to complete.
His paintings are gradually evolving in style and subject matter with his work representing River Life, Dreamtime Stories and Issues that affect Aboriginal people.
Kevin feels he has lot to learn and his best work is yet to come.
At the 3on3, Kevin can be found in the Art House, passing on techniques, tips and encouragement to our budding young artists.